Offbeats Old School Website
Get me off this crazy ride => Site Home <=
Synopsys Show 8/13/99
The 5th annual OFFBEATS show at Synopsys, in Mountain View,
California was too much fun. The band added digital samples to their show
with sometimes unpredictable results. From the initial 'Welcome
to Synopstock 99' and initial introduction by HAL-9000, the 90
minute set was layered with occasional bursts of birds, ocean,
newscasts, sirens and other digital sounds.
Some of the sounds were sequenced, planned events and others
were placed at random through the songs. "It became difficult
to keep from laughing during the vocals at times" said Tim
of the show. "We were using our EMU ESI-32 sampler with a
new controller. At times we had no idea what would happen when
one of the triggers was pressed."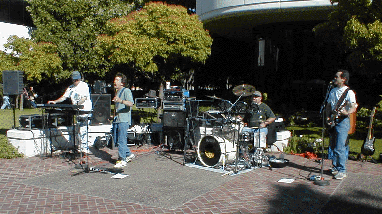 The mild weather also contributed to the 'Friday night beer
bash' keeping things cool for the show. One audience member snapped
a couple of pix on his digital camera, allowing DP to email them
to OFFBEATs central web site. Can live WEBCASTS be far behind
? Thanks again to SYOPSYS for letting us experiment on them.