Videos
The Return of Studio Madness – Now even faster ! Bigger!
We started running video over the net in 1997… The original 15 second video clip we put on this site took 20 minutes to download over a 9.6 modem. (Why did they call it Quicktime?) Now with broadband connections, at least you are still conscious when it's ready to play. Film at Eleven indeed! With the recent ending of Net Neutrality we hope those bad times won't return.
You will find video here from several decades. We randomly add / delete them. This used to be the only place you can find the original 'Net' video in all it's glory. It's still at the bottom of this page. Now – YouTube has changed everything and we are there.
Visit our channel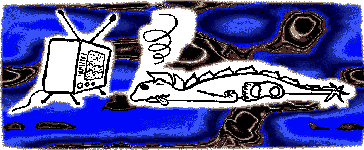 "Film at Eleven" drawing by Judith Mazanetz.
Pssst … Hey Kid ? Spare 95 seconds ? Trade ya for some Rocks and Skas.
A Linda Kadis composition. I could guess what it is about but maybe she will tell us some day.
Another uplifting song about global warming, our lovely political climate, and other thoughtful themes by Jay Kadis first released on the cassette release of "numbskulls" in 1990. Gee – times really change don't they?
A newer song (perhaps only 20 years old) – Bourbon Street – written after a trip to New Orleans with Judith Mazanetz, our drummer at the time. Performed at Frost (like the clip below.)
This a live version of "Soweto" from a show at Front Amphetheater in July 2005.
"Another Day" is a composition by Jay, our guitarist, and Andy, our first drummer. This video is probably from a mid 1990 in SF. Andy had been working with this set of chord changes and rhythms for quite a while and he and Jay put together this tune as a collaboration. It morphed to become a complex performance using the digital tools at the time. This is one of the last performances using the original arrangement, hardware and software and features Andy Scott on drums.
The last in the Blues Harp series from the Bistro from 2002. Irv's legendary "Harp Boogie".
The Bistro, November 17th, 2002. This is the second video and the second tune from the second set in that show – is that like the seventh son of the seventh son of the … ? Never mind. This track is from the same set as the one following it on this page featuring our friend Irving Lubliner on blues harp.
"You Got Me" was originally recorded (the CD track, that is) after lunch one day at CCRMA at Stanford. I only had ONE beer with that burrito and I remember we had an audience in the control room so it pumped us up and we burned on that session and I thought that we were recording what I thought were "scratch" tracks that were used only to accompany DP's drum tracks. Though I tried many times to get a better bass track with overdubs I was never able to equal the original so that's what you hear on our CD on "Rock'n'Ska". Irving later came in to overdub his harp and it really lent that true blues feeling to the sessions.
So, by November in 2002, we got Irv to play live with us at the Bistro. Though these videos from the Bistro have little bass in the mix, the band was still smokin' and Irv's harp sounds as good as it did in the studio. And if you like this video, please like our page on facebook. https://www.facebook.com/Offbeats-572733659405921
On November 17th, 2002 we played a gig with our friend Irving Lubliner at the Bistro in Hayward. Irv had played harp in the studio sessions for our CD "Rock'n'Ska" on one of Jay's songs "You Got Me" so we wanted to play some blues tunes with him in one of our live shows as it was so much fun to play with him. This is a cover of the Paul Butterfield Band's tune "Born In Chicago", written by Nick Gravenitis. There are two other videos from this show in the series.
When first written, "Soweto" had a third verse which was dropped towards the end of 1990 for good reason: This verse was written in a 6/8 rhythm which was followed by a regular 4/4 rhythm on the chorus and then a final 6/8 on the way out. It was really hard to play (and sing at the same time) and seemed to confuse the dancers as they tried to figure out what we were doing to them and why their dance steps suddenly quit working. This rare video is a solid performance of this tune played the way it was first written and just before we changed it. It is a mashup of two video performances taken from two shows in SF played a day apart in July 1990.
This version of "Beat Complex" has video from two shows in mid 1990 in SF. We play this song completely differently now but you can hear echos of the later CD version in this live version. Our first drummer, Andy Scott is playing the kit and the bassist and keyboardist look quite different. Jay of course looks exactly the same.
Clone Me Now is compiled from 20 years of footage from live gigs. Amazing how the hair styles change, the drummers come and go, and yet the band always plays at the same tempo – FAST – year after year.
"Get Up!" from the 05 Frost Show.
"Take What You Want" from the Catalyst show Santa Cruz California 9/17/1992 with a quick backstage look at the load-in and setup process. The real world of rock and roll is anything but glamorous.
"Sheep Look Up" featuring Judith Masanetz at The Catalyst Santa Cruz CA September 17, 1992.
From the "Rock 'n' Ska" recording sessions at CCRMA "You Understand".
Finally – In all it's 15 seconds of fame and Glory – our Net video from 1995. Thrilling isn't it ?